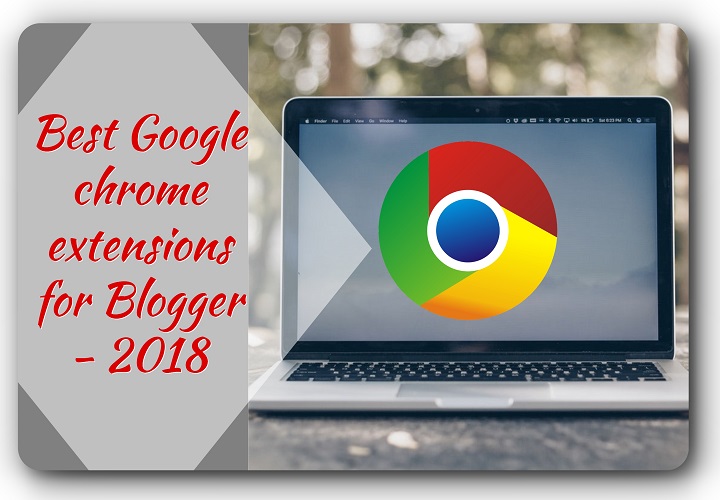 Top 10 Google Chrome Extensions – Hi Friends, If you're reading this article, that means you're a blogger. I Hope you all enjoy your Blogging Journey a lot. There is no need to tell how important Google Chrome extensions for a blogger. Because Google Chrome is a popular browser which is used by more than 10 million peoples. almost all bloggers used these google chrome extension for better blogging experience. so we can further reduce some difficulties by adding some important Google Chrome Extensions to it. we all know chrome extension is part of Google chrome which increases the feature of Google Chrome browser.
So I have written about Top 10 Google Chrome extensions, let's have a look 🙂
Top 10 Google Chrome Extensions that Will Make You Better in Blogging
I will tell you How Chrome Extensions Can Help You Survive in the blogging world. If you will use all these extensions then surely you get success in the blogging world. Maybe You know about something already, and the rest of the extensions will be proved to be very beneficial for you. So we don't take too much time, directly come to the post and tell you the Top 10 Chrome Extensions that will make you better in blogging.
If you are a Hindi/Arabic blogger then maybe Grammarly is not a helpful extension for your blogging. However, You can also use this extension in many places such as commenting, Writing in social media and etc. Because most of the people use English words in social media, then it will prove helpful in that place. This is also one of the best Chrome Extensions which is quite useful for English Blogger. This helps the writer to write purely in term of grammars. Not only that, if you write an incorrect word accidentally, then it will highlight those words with red color so that you could correct those mistakes. In this way, these Google Chrome Extensions are the best Chrome Extensions for Article writing in English.
If you want other premium features like 200+ additional advanced checks, Vocabulary enhancement checks, Genre-specific writing style checks and Plagiarism Detector then you can buy Annual or monthly subscriptions. you can also Improve your writing and grammar skills by using this 6 tools.
Keyword Everywhere is the best Google Chrome Extensions that will really help you in to be a good blogger. It is best keyword finder tool which provides amazing features in free of cost. Whenever you search for a keyword or sentence in the Search Engine, then it provides those data which we need for the article writing, basically, it is a tool like a Google Keyword Planner. This means that the Best Chrome Extensions lets you tell your Keyword Volume, CPC, and Competitions of any keyword you search on Google right below the search bar. that's why you don't need to use google keyword planner.
You can Also Use Keyword Everywhere extension with Google Keyword Planner. It adds 3 more column in keyword panner whenever you search any keyword. I already made a Video on it, that's why I will not talk more on this matter. You can Watch the video on it which is attached below.
Read also: 15 Best Google secret Tricks and Google secret Games that You must know
LastPass on of the amazing extension which is freely available on the internet. It is not only necessary for a blogger but also for all Internet Users. You can download this extension by clicking on Title and when you install this LastPass free password manager extension in your Google Chrome Browser, then no need to remember any website login passwords. this extension will do all your work with one click. Only you have to do is recognize its Master Password. This extension is secure that why millions of people are using this extension on our desktop and laptops. If you want to enjoy more premium features then you can buy a premium subscription. But I advise you to use the free version because it has enough features that you need.
If you blog considerably within a niche, then this extension will helps to stay on top of all the content that your competitor websites are offering. so RSS is a very easy way to do this. currently, I am using this super RSS extension that almost instantly loads all the Articles as feed items. You can also search for items in the feed and also pin those items for easy referencing later.
So, when you come across posts that you would like to extend or cover on your blog, you can simply pin them.
When we are working on the internet then sometimes we need to take a screenshot of that specific web page. In this case, we can use the keyboard's "Print Screen" key but this is a very lengthy process. Because you have to paste it by going to Paint and editing it. So if you have amazing LightShot Google Chrome Extensions then you don't need to do all of the silly things. just you have to click on this Lightshot extension and edit it as you wish and save that too in great quality.
MozBar is the most useful Chrome Extensions for any blogger, which gives you complete information about any domain. You can easily find Domain Authority, Page Authority of any domain, through this Chrome Extensions. Not only that, you can also get the information of any Blog's DA and PA in the search engine, which will help you overcome your competitors.
You can get any information about any link by either Dofollow or Nofollow. And you can get detailed information about any post through this great Chrome Extensions.
You can also Read: Best extension of chrome 2018
There are several websites on the internet that disable the copy to their content, which can not be copied to any part of their website. Many times when doing a work or any kind of research, it is important to copy the data to collect, then you can copy easily protected content with the help of this extension.
You people are requested not to misuse this extension because website owners write content with hardworking.
You can filter websites according to your choice and needs. Google Simer Page is a search tool that will be used to show you the rest of the websites related to what you are reading about. It is one of the best tools for those people who research more and more on the same topic. You can also find anything which is related to your current article.
With this extension, you can read and write an article in your mother tongue. You can also practice typing in your language using Google Input Tools, It offers virtual keyboards in more than 90 languages. It transliterates into more than 30 scripts. It also provides handwriting input in more than 40 languages. For transliteration, you have to type in English, but those words on the screen will appear in the language you have chosen. You just need to type properly in English keeping in mind the pronunciation.
Knowledge regarding competitor websites in the world of blogging is a very important strategy to rank on the google. This lets you know How is your website performing on the google. so with similarWeb, you can know the performance of websites so that you could perform better in content and also Backlinks. With this, you can see estimate traffic of any website, how much is a popular website, etc.
This extension is a free version in which you will get all info of websites but in the limited number. You can also find which website get Organic search, who is that website Advertiser and which website giving them backlinks.
So Guys here are Top 10 Google Chrome Extensions that you can use to make your Blogger Life really easy. If you like this post "Top 10 Google Chrome Extensions that Will Make You Better in Blogging" then do not forget to tell us in the comment box which is your best google chrome extension that you use mostly.
Apart from this, if there is any problem with the intermediary, do not hesitate to ask in the Comment Box. If you want, you can send your question to our email at Shayaan499@gmail.com. We will be happy to assist you.
Read also: how to setup CloudFlare CDN and (Https) Free SSL certificate on Wordpress